Authentic Country Food Carried Down for Generations
Cedar City's local restaurant, Market Grill, was founded by the Beacham family over 30 years ago on principles of providing great service and the best in Western home cooking. Our authentic country food, such as our country fried steak and homestyle country breakfast, serves up delicious flavors that keep our customers coming back for more. From our humble days cooking up just Bonnie's Special Burgers, to today when we've become one of Cedar City's most popular restaurants, we continue to dish up great flavors you'll want to sink your teeth into.
Check out our menu below before you drop by our home cooking restaurant, or give us a call to order your Western country food to go!
Breakfast Specials
Breakfast Served Until Noon Everyday
Add Blueberry to any pancake
$.50
All to go containers
$.25
Omelettes
Omelettes served with hash browns and toast.
Mild green chili stuffed into a three egg omelette.
Diced ham and cheese stuffed in a three egg omelette.
Ham, Mushroom and Cheese
$7.99
Everything Omelette
$8.99
Ham, mushrooms, onions, green peppers, tomatoes and cheese.
Tomatoes, onions, green peppers, ham.
Add onion, tomato, mushroom, green chiles, green peppers or cheese to anything
$.99 each
All to go containers
$.25
All Items and Prices Subject To Change
Ask About Our Early Bird and Other Breakfast Specials
Consuming raw or undercooked meats, poultry, seafood, shellfish or eggs may increase your risk of foodborne illness, especially if you have a medical condition.
Lunch
After 11:00 a.m. – Noon on Saturday.
Ask about our daily specials in addition to the items listed below.
Mashed Potatoes w/Gravy
$4.50
All substitutions add .50.
Consuming raw or undercooked meats, poultry, seafood, shellfish or eggs may increase your risk of foodborne illness, especially if you have a medical condition.
Free refills on Iced Tea, Coffee & Fountain Drinks
Whole Pie orders available with 24-hour notice. Substitution will be made at cost of substituted item plus .50.
All Items and Prices Subject To Change
Dinner
After 5:00 pm Monday through Saturday
A True Tradition of Western Home Cooking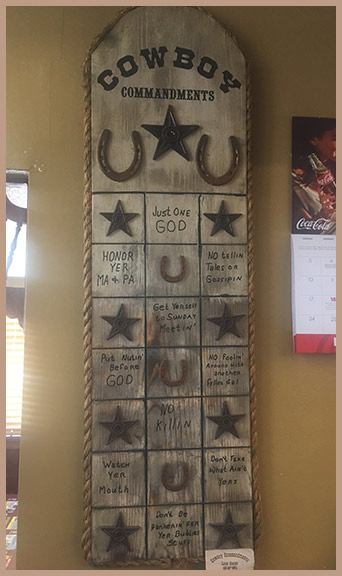 The demand to serve livestock ranchers and buyers at Cedar City's weekly auction started the Market Grill restaurant in true Western tradition. Back then, Bonnie Beacham flipped burgers on a cast iron grill over two hot plate burners while customers listened to the sounds of livestock lowing and the chatter of the auctioneer. The burgers were great and the atmosphere busy and friendly.
That great home cooking of authentic country food coupled with great service are what restaurant owners, Larry and Bonnie Beacham, dedicated to provide every customer. This dedication has helped bring them from those early beginnings to the thriving, popular restaurant now called the Market Grill. With the help of Met and Lana Johnson, then the owners of the Cedar Livestock Auction, Bonnie established a small local restaurant where she could set up her grill permanently.
Bonnie still can remember the days when she served as the cook, waitress, cashier, dishwasher and hostess of her new restaurant all at the same time. Although it was a struggle, the business thrived. With the Johnson's help and support, soon the customers outnumbered the seats. When it was time to add on another room, Bonnie trader her spatula to her husband Larry. Filling in wherever they were needed, all five of the Beacham children soon made the Market Grill "a family affair." In 2006, Bonnie and Larry retired, handing the reins to their oldest daughter, Kay Lonnie. Then in 2018, Kay Lonnie retired, leaving the restaurant to Mona to keep up the family tradition.
With all of the changes over the years, including cooking more than just burgers these days, Mona still strives to make you feel at home. Our popular restaurant among Cedar City locals also gladly welcomes in out-of-town visitors. Everyone who steps through our restaurant doors is family, and we do our best to show you that from the moment you arrive.
Stop by our Western home cooking restaurant today to try all our authentic country food dishes! With our exceptional service, inviting atmosphere, affordable prices and appetizing dishes, you'll be glad you came to Market Grill.